Hi everyone and welcome to Day 5 of the…
Sew Sweet 1st Birthday celebrations!
I really hope you've enjoyed the projects and tutorials the Sew Sweet DT and guests have posted using Sew Sweet products all week here on the Sew Sweet blog! It's been wonderful to be able to share a week long celebration of Sew Sweet's 1st Birthday with you all! Today I've got another card to show you using some yummy Sew Sweet ribbon:
For this card I made some ruffly ribbon flowers (first time ever!) using some of the gorgeous 15mm Sheer Gold Ruffle Ribbon from Sew Sweet. Super easy to do – all you need is a needle and thread! Simply take a length of ribbon, sew a running stitch along one edge, then pull to gather the ribbon into a flower and stitch to secure. I added an adhesive pearl to the middle of mine, but you could add a brad, button or anything that takes your fancy!
I also used some gorgeous 15mm Double Faced Satin Ribbon – Old Gold on my card which is an absolute BARGAIN at only 35p a yard!! I have to say that the 15mm Double Faced Satin Ribbon that Emma stocks at Sew Sweet is the most beautiful and best satin ribbon I have ever used. It is such amazing quality and there are 25 different colours to choose from. I also love the width of it and it makes the most gorgeous bows and it's double faced!!
Don't forget that if you place an order at the Sew Sweet store this week (2-6 April) you will win a fabulous prize from huge gift vouchers to free shipping to discount codes! Every order wins a prize! Woo-hoo! But you better be quick as this promotion ends today.
And that's not all – every day this week (2-6 April) Emma is giving away a goodie bag worth £10.00 to a random Sew Sweet blog commenter! Today is the final day for the goodie bag giveaway, so make sure you leave a comment on this post if you want to be entered into today's draw! Winners will be posted here on the blog on Monday.
Thank you so much for dropping by and sharing our birthday celebrations! On behalf of everyone at Sew Sweet, I hope you have a fabulous Friday and a wonderful Easter weekend!
Hugs,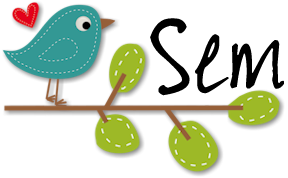 ♥ Thank you for visiting us today at Sew Sweet ♥ www.sewsweet.co.uk