Goodmorning sweeties, first of all i want to say a HUGE thank you to everyone for the lovely good luck & Get Well wishes for yesterday. I had the biopsy done first thing in the morning which meant all being well i would be discharged in the afternoon. I was so relieved i didn't have to stay over at the hospital. You never get any sleep and i would much rather be at home resting. So now its the agonising wait for the test results to come back which can take upto 3 weeks.
Onto something a bit happier, My Guest Design Team Card for By LORi Designs
Please excuse the terrible photo. I needed another baby Girl card and i do so luuurrrvve LORIs baby images. I kept it pretty much C&S.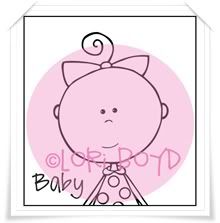 I really hope you all have a fantastic relaxing weekend, Today i will mostly be……snuggled on the sofa sewing up some new kits ; ) See you back here Monday!